Delrin Spell Color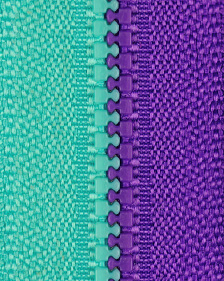 Description
Color fitted zipper (Spell color) is made with different color tape pair with different teeth, formed special tape effects, 4 different colors could be matched in this zipper. This set of combination can be applied in various types of garments requirement. Color in blue style fits adults.

Specification
Color fitted zipper is applicable for delrin zipper, nylon zipper and metal zipper. Nylon zipper #3, #4, #5, #7, #8, #10 Delrin zipper #3, #4, #5, #8, #10 Metal zipper #3, #4, #5, #8, #10

Application
This product is usually used for phase spell fabrics, and it could decorate the single fabric. It could be used for sports bag, sportswear, casual wear and many various personal cloths.